Traditional fencing has long been associated with what we call farm fencing or fencing for cows and sheep with horses not being specifically catered for.  As farms carried more cattle or sheep, fencing was built to suit this need, horses just had to 'fit in'.  Of course, we now know that standard farm fencing just does not suit our flight or fight instinctive horses.  We better understand how horses see, and with the development of many, many horse specific studs, we have all seen the need for horse specific fencing.
Plain wire fencing just does not suit horses at all.  So many horrific injuries have been seen and experienced with wire. Tearing, tourniquet, debriding, even amputation. Timber fencing can shatter and splinter, impaling horses' bodies. As timber doesn't have any give, horses have also been known to die on impact. Steel alone is also too strong. While the strength of the fence will hopefully prevent cuts and open wounds, again, as it has no give, horses are more likely to break legs or die on impact.
Horserail is made for longevity, for giving on impact, for cushioning the horse, for overall safety.  For low maintenance, for it's good looks and ease of installation.
When selecting a horse fence, compare the cost of any rigid fence, with its added maintenance, repairs and possible vet bills from injuries, to the cost of a Horserail fence.. and the choice is easy!
No other similar Fencing Rail on the Australian Market uses a flexible polyethylene.
Why Polyethylene and not PVC or Polypropylene
Polyethylene as used for Horserail has predominantly been used in premium industrial products such as paint containers, electrical cables, irrigation pipe and water tanks. Anywhere flexibility and durability were required.
Experience in Australia has shown that Polyethylene will outlast other plastics. Some lower quality plastic products have been seen to fail after only 3 -5 years.
In Australia we have now seen Horserail installed up to 25 years with no signs of degradation.
Horse Safety
Horses are able to roll and even run into the Horserail at speed and be left injury free due to the width of the rail and it's flexibility even when tensioned.  Splinter free and unable to wrap around horses legs, Horserail will support a horse as well as give them something to lever against to push themselves up, or break the force of impact.
Horserail will also serve as a more solid visual barrier for horses running at speed. Old fashioned wire is hard to see at different times of the day and with a horses head held high when moving quickly and playfully or in a panicked state, they tend to not see the wire at all, resulting in often devastating injuries, even death.
One incidence even saw a car crash through a Horserail fence at over 100km/hr where the posts were snapped at ground level and the rail sprang back to the original tension.
This top class thoroughbred double barreled through the fence coming out with just a few scratches!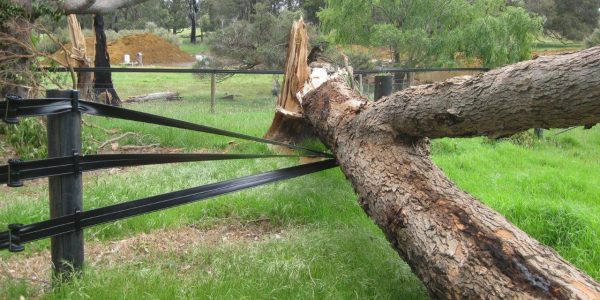 Strength and Durability
With a limited manufacturer's warranty of 30 years, Horserail has unmatched durability. Unlike traditional wooden post and rail, Horserail won't fade, warp or become brittle in extreme weather conditions. 
No one builds a fence thinking "bad things" will happen to it. You think "it just has to be strong enough to keep my horses where I want them." As you see – Horserail can do both at the same time – contain your horses and absorb those unimaginable events.
Easy to Install and Low Maintenance 
No painting, cracking, or splintering to repair. We know that owning horses is an investment in money, patience and dedication. That is why we pay special attention to all that goes into our products so that they will provide for a long lasting, attractive fence that requires little maintenance. For example – our hardware is "Double Coated" for superior weather resistance (hot dipped galvanized and powder coated.)
Easy to Install – A unique, patented fence system. 
To make the installation process faster, easier and neater our hardware features a patented procedure for attaching, joining and tensioning the rail providing a clean, neat look while being safe for both installer and horse.
Horserail Warranty
Horserail's Limited Manufacturer Warranty is up front when you buy the product, unlike some of our competitors. Horserail's three wire rail has a fantastic 30 year limited Manufacturer's Warranty.
We really have made our product at a standard higher than any other in the world. And why wouldn't we? You and your horse deserve the best and safest possible fencing available. Here at Duncan Equine Group, we love our horses and want the best for them. We know you do too, that's why we have gone to the trouble of bringing you this fantastic product, and we trust it enough to fence our own horses in it too.
Horserail Close Up
The flexibility, smoothness and strength of this rail not only protect the horse and rider from injuries caused by conventional railing, these characteristics also provide a long lasting, attractive fence that requires little maintenance. Horserail® is designed to be easily installed using a patented procedure for attaching, joining and tensioning. There is no stripping, crimping or notching needed and the end result is a properly installed fence with no exposed wires.
A. High Tensile Wire
B. Molecularly Bonded to the wire
This is not new technology, just a new way of using it. The auto industry has been successfully fusing plastic to metal for over 50 years. We have taken that knowledge and combined it with our fencing experience and expertise and adapted to work on horse fence products. No separation or retraction of plastic from wire which translates into longer fence life.
C. Long-Life UV Stabilized Non-Conductive Medium Density Polyethylene