Did you know Duncan Equine also offers a range of rubber flooring options for your stables?
With winter fast approaching, now is the perfect time to prepare your horse property for wet weather. We have a variety of rubber flooring and matting products that can be used to make wet, slippery areas much safer for you and your horses.
Rubber for wash bays & high traffic areas
High-traffic areas for your horses often need to be paved or concreted, making them easier to keep clean. However, we all know concrete or tiling becomes very slippery for horses when wet, especially those with shoes. This becomes a contradictory situation for areas such as wash bays, tie-ups, or stables, which need to be concreted so they don't deteriorate, become uneven, or turn into a mud pit, but will become wet and slippery through everyday use. This is where our range of rubber matting is the perfect solution!
Installing rubber into areas of your barn, shed or stables that are likely to get wet will greatly reduce the risk of accident or injury to either horse or handler, as well as provide a much more comfortable base underfoot. We offer three varieties of rubber matting, that can be purchased as a single item, or in bulk to surface an entire area.
Rubber for stables
Our rubber matting is also a very worthwhile addition to the base of your horse's stable. Rubber matting acts as a shock absorber, therefore it's kinder on your horse's joints and means you won't have to lay your horse's stable bedding as deep.  Not having to use as much bedding in your stables means a serious saving of money and time spent mucking them out! Many of us stable our horses over the winter months to help protect them from the cold weather, so whilst a rubber base will make your horse's stable safer and more comfortable, it will also make it warmer! A layer of rubber between your horse and a cold concrete slab offers fantastic insulation from the cold.
Rubber "pavers"
We also offer a unique alternative to traditional pavers or bricks, which achieves the same traditional look – Our "Dog Bone" Tiles available in black or red look like traditional bricks from a distance but are actually made from rubber. Their pattern means they interlock securely and can be used in areas of any size or shape. They can also be cut or trimmed a lot easier than traditional bricks to suit the shape of your flooring space. Available in a traditional red brick colour, or our new black colour, they offer comfort and safety, without compromising style.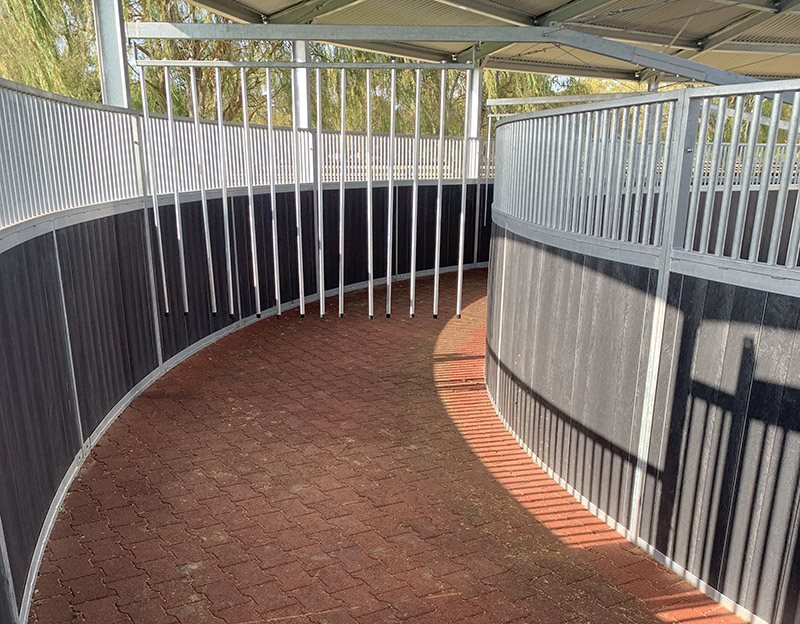 How much will I need?
We even have a rubber calculator on our website here!  Our rubber calculator will help you determine how many rubber sheets or tiles you'll need to surface your area. We also offer a discounted rate for higher quantity orders on bigger projects.
Get in touch!
Still unsure of how much rubber you'll need, or need help deciding which style of rubber would best suit your needs or your property? The team at Duncan are happy to answer any questions you have! You can contact the team on 1800 259 365 or at info@duncanequine.com.au