The recent bushfires in South Australia and Western Australia have devastated many families, who've lost possessions, homes and livestock. In an effort to offer support, Horserail has chosen to donate more than $100,000 worth of coated wire fencing.
Elle Griffiths, one of many affected by the South Australian bushfires, received a call from Horserail offering to donate two kilometres of fencing to her 180 acre property in Mallala. When she refused to take it, expressing that other people needed it more, Horserail sent a total of 10 kilometres for her to distribute to her neighbours.
"When you can't keep your horses safe, that's the hardest part. When everything's gone, fencing for a horse person or people with livestock is security. We won't be in our house for another six months because of fire damage, but when the [fence] posts started going in, you end up in tears over every post. Something so simple becomes everything. You know that part of your family is protected. We are certainly very thankful."
Sandy Brown, an equine veterinary nurse, has not only lost some of her own horses, but seen the aftermath firsthand as surviving horses arrived at Adelaide Plains Equine Clinic. "Post-fire, by far the most common injury we've dealt with has been fencing injuries. We've been pulling exposed wire out of leg injuries five days after. Having been in the industry a long time, you get to see every type of fencing. Using coated wire lowers injury rate and also takes care of our fences."
Reflecting on the loss of her horses, Sandy says, "At home, we've dedicated one of our paddocks to Horserail and it's where our horses have been laid to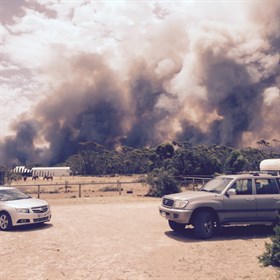 rest. When the fencing was due to arrive, we'd hit a low in the re-building process. When the truck came, we were overwhelmed by the fact that someone else had thought of us, after all we'd done for others. To have someone outside the affected areas give you something that hasn't been taken by the fire, you start to rebuild with that."

At present, an entire shipping container of coated wire fencing is headed to Western Australia. Ben Duncan of Horserail Australia says, "So far, the calls and emails from recipients have been nothing short of amazing. I'm glad we've been able to help some of these people who have lost so much and are struggling with all the costs of replacing things lost in the fires. It's the least we can do."
He continues, "We hope our donation will help people get back on their feet. While we often use outside sources to place product with people in need, it can be difficult for us to determine who requires it most. If you feel you could benefit from our donation and have unfortunately missed out, please feel free to contact us on freecall 1800 259 365.